Media Contact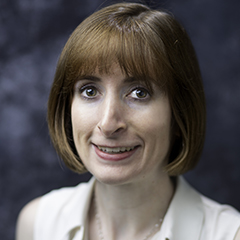 Based out of our lead consortium member office at VTTI in Blacksburg, Virginia, Anne Deekens is a creative, hard-working, and effective communicator – she will be happy to schedule interviews, provide news releases, arrange publicity partnerships, and schedule connected technology demonstrations on behalf of the CVI-UTC. Thank you so much for your interest and we look forward to working with you!
---
News Archive
Graduate student develops and tests in-vehicle safety application on Interstate 66
December 23, 2015 – As part of a Connected Vehicle-Infrastructure University Transportation Center project, Virginia Tech graduate student Kayla Sykes of Richmond, Virginia, tested an in-vehicle application with the potential to improve driver safety and save time.
Video: Center for Advanced Automotive Research
January 29, 2015 – Zac Doerzaph, center director of CAAR, talks about the multiple ways VTTI is advancing research into the next-generation of vehicular technology with revolutionary studies about connected vehicles.
Virginia Connected Corridors
January 9, 2015 – More than 15 years ago, the Virginia Department of Transportation (VDOT) and the Virginia Tech Transportation Institute (VTTI) partnered to create one of the first active and integrated roadways featuring intelligent transportation systems: the Virginia Smart Road. Today, VDOT and VTTI have teamed once again to enhance and complement development and deployment of the next generation of vehicular technology with the Virginia Connected Corridors (VCC).
Graduate student exploring ways to make riding a motorcycle safer using connected driving data
November 5, 2014 – What if cars could talk to motorcycles, alerting them to road hazards that might be annoying for drivers of four-wheel vehicles, but dangerous to motorcyclists?
Transportation Institute works on study that could display traffic signs inside vehicles
August 4, 2014 – It's an act as automatic as turning the ignition: You come to a stop sign at a traffic intersection and bring your car to a halt before proceeding. Even if no other vehicles are around, you stop.
Connected Vehicles: Our Future is Happening now
May 22, 2014 – In a recent ITS World Congress blog feature, VTTI Director Tom Dingus discusses the future of transportation safety and why connected vehicles will play an integral role.
Transportation institute teams with Blacksburg Transit to ease wait times, save fuel costs
May 14, 2014 – The Virginia Tech Transportation Institute has teamed with Blacksburg Transit to create a new mobile app that could make waiting for the bus an act of the past and help the transit authority reduce fuel usage.
Researchers to design vehicle-to-vehicle communication integration framework
February 14, 2014 – Following a U.S. Department of Transportation call to require vehicle-to-vehicle communication technology for all cars and light trucks on the nation's highways, the Virginia Tech Transportation Institute has been tapped to design the delivery integration framework that will allow vehicles to "talk" with their drivers and with other automobiles on the roadway.
The Future is Now: Active.Connected.Automated
January 10, 2014 – Get an inside look at how the future of transportation is happening now at VTTI.
VTTI Connected Vehicles the First of Their Kind
July 23, 2013 – The Virginia Tech Transportation Institute is using motorcycles as part of its Virginia Connected Test Bed initiative, designed to equip vehicles with connected wireless technology that enables them to "talk" to each other via wireless sensors installed on vehicles and along highway infrastructure.
White House to honor Virginia Tech Transportation Institute's Tom Dingus as 'Champion of Change'
May 7, 2013 – Virginia Tech Transportation Institute researchers' new project could change the way motorists navigate through traffic lights, making the everyday action safer, smarter, and cheaper – the last by cutting fuel costs and likewise reducing pollution.
Future cruise control to have environmental, safety features
February 26, 2013 – The cruise control on your auto can ease a long trip and keep you out of trouble by preventing you from speeding, if you have set it at the legal speed limit. As new cars are being outfitted with GPS, a predictive eco-cruise control system being developed by the Virginia Tech Transportation Institute will also be able to save fuel and reduce emissions, and is being fine-tuned for intelligent vehicle capability.
Transportation research leader heads connected vehicle/roads research operation
January 8, 2013 – Raymond J. Resendes of La Plata, Md., who has been chief of the Intelligent Technologies Research Division of the National Highway Traffic Safety Administration (NHTSA) since 2005, has been named director of the Virginia Tech Transportation Institute's National Capital Region operation.
New communication systems would allow vehicles to 'talk' with roadways
November 5, 2012 – Someday, your auto and the roadway will be in constant communication and able to suggest route changes to avoid accidents, construction, and congestion; coordinate your vehicle with signal lights, other vehicles, and lane markers; and let you know where you can park. Right now, a fleet of instrumented vehicles are testing these systems on two instrumented test beds – one in Northern Virginia and one in Southwestern Virginia.
Virginia Tech Transportation Institute receives University Transportation Center Tier 1 Grant
April 22, 2012 – The United States Department of Transportation, Research and Innovative Technology Administration has awarded funds in the amount of $3.5 million to establish a multidisciplinary program of transportation research, education, and technology transfer for a Tier 1 University Transportation Center to be headquartered at the Virginia Tech Transportation Institute.